Posts for: April, 2015
By C. Scott Davenport, D.D.S., PA
April 23, 2015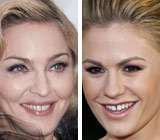 One's a singer who made her name playing New York clubs in the 1980's before catapulting to international pop stardom; the other's an actress from New Zealand who, in 1994, at the age of 11, became the second-youngest person ever to win an Academy Award. Both remain at the top of the A-list today. What other feature do Madonna and Anna Paquin have in common?
You guessed it — it's their teeth. Both have a small but noticeable gap between their two front teeth, known as a diastema. This condition is relatively common, and it's normally easy to treat — if that's something you'd like to do. But wait a moment… In certain African countries, this kind of smile is considered a sign of fertility; in France, they call it "dents du bonheur" (lucky teeth); some other cultures consider the gap a predictor of future wealth. So if you've already made this look work for you, there's no need to change it — even if you might need other cosmetic dental work.
The "perfectly imperfect" smile has become an increasingly popular option for people having veneers, cosmetic bonding, or even dental implants. Some trend-watchers have even noted a pushback against the ideal of a completely even, flawless, Hollywood-white smile. Does that create a problem at the dentist's office?
Absolutely not! We call the process of figuring out how your teeth should look "smile design" — and it's as much an art as a science. When we're just beginning to design your smile, we look at a number of features — including the size, shape, color and alignment of your teeth, the position of your lips, the amount of gums exposed, and the relationship between your smile and your other facial features. We're also listening carefully to you: what you like and don't like about your smile, how you think it could be improved… and what should stay just the way it is.
Of course, before doing any cosmetic work, we will always perform a complete dental exam to detect any underlying condition and determine what treatments are best. Then, we will work with you to help you get the smile you've always wanted. Not sure exactly how it will look when it's all done? Ask us for a preview — from computer-generated pictures to actual 3-D models, we can show you how your new smile will enhance your appearance.
So if your smile needs a little help to look its best — but you still want it to be uniquely yours — maybe now is the time to come in and see us. If you would like more information on smile design, please contact us or schedule an appointment for a consultation. You can learn more in the Dear Doctor articles "The Impact of a Smile Makeover" and "Beautiful Smiles by Design."
By C. Scott Davenport, D.D.S., PA
April 08, 2015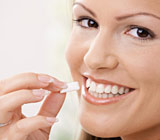 Can chewing gum prevent cavities? Yes! It can if the gum is sweetened with xylitol.
What is xylitol?
Xylitol is a type of "sugar alcohol," similar to sorbitol and mannitol, sugar replacements that are used in many low calorie foods. Xylitol occurs naturally in many fruits and vegetables and is obtained from the bark of birch trees, coconut shells and cottonseed hulls. It looks and tastes like sugar and is a diabetic-safe, low-calorie carbohydrate.
How does xylitol stop cavity formation?
Decay starts when certain bacteria break down sucrose (regular table sugar) and produce acids that dissolve the minerals in the enamel, the outer protective layer of your teeth. When the decay-causing bacteria try to consume xylitol, they are unable to break it down, and instead they begin to starve.
A normal mouth contains a large population of bacteria, and it is better for your teeth to have more "good" bacteria of the kind that do not cause cavities. Xylitol also stops your saliva from becoming acidic, so your mouth becomes a better environment for the "good" bacteria.
Chewing xylitol gum also increases your flow of saliva. Saliva contains calcium and fluoride and helps give these minerals back to your teeth (re-mineralization), undoing some of the effects of the cavity-causing bacteria. This makes chewing xylitol gum a particularly good solution for people who suffer from dry mouth.
How much xylitol do you need to prevent cavities?
We recommend that you chew or suck on two pieces of xylitol gum or two pieces of xylitol candy for five minutes following meals or snacks, four times daily — if you are at moderate to extreme risk for cavities. The target dose of xylitol is 6 to 10 grams (one or two teaspoons) spread throughout the day. Prolonged gum chewing is not advised, so most xylitol-sweetened products contain flavor that only lasts a short time to discourage excessive chewing. The only side effect of too much xylitol ingestion is that it may have a mild laxative effect.
I don't like chewing gum. Is there another way to get xylitol?
People who don't like to chew gum have the option of using xylitol in mints, candies, mouthwash, toothpaste, or mouth sprays. For these individuals, a minimum dose is 5 to 6 grams (one teaspoon) three times per day.
So now you can add xylitol to the list of ways to fight cavities: daily brushing and flossing, and regular professional cleanings — and chewing xylitol gum.
Contact us today to schedule an appointment to discuss your questions about xylitol and other methods of preventing tooth decay. You can also learn more by reading the Dear Doctor magazine article "Xylitol in Chewing Gum."